ABOUT Kshirsagar Exports COMPANY
The Kshirsagar Company
We are one of the Leading Manufacturers & Exporters
in all kinds of Textile Products & Home Made-Ups.
Also we are the Pioneer of the Best Jacquard Design Chaddars & Towels in todays Market.
Our Exports is spread throughout the world network in countries such as..South Africa,USA,Malaysia,Europe,and allover South East Asia.
HISTORY OF OUR COMPANY
The Kshirsagar Company began in year 1950 with Kisanrao Kshirsagar and their wife Smt.Shalanbai Kshirsagar and a great idea.Their two sons Mr.Rangnath Kshirsagar and Mr.Madukar Kshirsagar developed this idea of manufactureing textile products slowly, at first, while holding full-time jobs as a worker specialists for a company Mr.Kisanrao left it and started their own business. But soon Kshirsagar's products were in such demand that Mr.Rangnath & Mr.Madukar started full-time working and employed more hand looms and then power looms with a small scale industry.

50 years later, KSHIRSAGAR Company has grown in its Technology and Export to be a powerful presence in the market. And because of this Today the kshirsagar company had recieved the
ARCH OF EUROPE GOLD CATEGORY AWARD FOR EXCELLENCE IN QUALITY AND TECHNOLOGY.


To know much about ARCH OF EUROPE VIEW THE Whats New Page
Button in the Page


Our Executive Team of Kshirsagar Exports
Mr.Rangnath Kshirsagar, Genral Manager

Mr.Shashikant Kshirsagar, Partner

Mr.Mohan Kshirsagar, Partner

Mr.Sunil Kshirsagar, Partner

Mr.Kalidas Kshirsagar Partner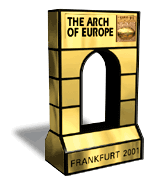 Mission Statement
KSHIRSAGAR Company is committed to providing BEST Quality, up-to-date products and convienent, fast services and bigger Exports.
E-mail Us